The Eye Bach Choir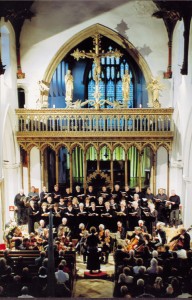 The Eye Bach Choir was founded in 1974 by Merlin and Ann Channon. It has nearly fifty singers and a tradition of excellent performance. Although we honour J.S.Bach in our title, our repertoire covers works from the sixteenth to the twentieth century. It ranges from Byrd to Britten and Tippett; from Bach, Handel and Mozart to Mendelssohn and Brahms as well as Monteverdi, Pergolesi and Vivaldi.
We engage professional soloists and when required bring together the Eye Bach Choir Orchestra consisting of prominent local musicians and teachers several of whom have been with us for many years. "The Eye Bach Choir is sociable, highly articulate, and has a wonderful spirit!" says our founder.
Come to one of our concerts, or better still come and sit in at one of our rehearsals, and find out for yourself – we always welcome new faces!
www.eyebachchoir.co.uk
Development Appeal
Thanks to our supporters, benefactors and helpers, the church has acquired, among many new features, an assembly room and a magnificent historic organ, on which visiting international organists have performed. Our work continues. Our thanks go to all those whose support and generosity have enabled our church to flourish. On their behalf we would like to invite you all to visit Eye and its magnificent church… and to stay awhile to sample its worship, music and its welcome.