Eye Church Bells
Once gained, bell ringing is a skill for life you'll never forget……..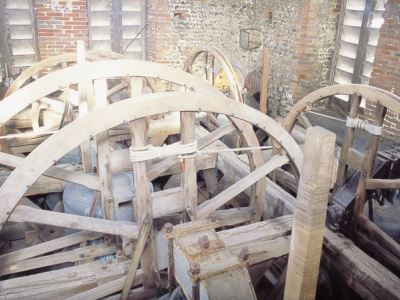 Our eight bells include a pre-Reformation bell dated c.1480, and they hang in a wooden bell-frame which may well date from 1721 when the old ring of 5 was augmented to 8. The bells are in the key of D major. The ringing chamber is accessed by a stone staircase of 52 steps, so reasonable fitness and mobility are needed. Our ringing practices are normally held as follows: First Wednesday of each month: 6.00pm until 7.00pm at Redgrave Church. Remaining Wednesdays: 5.00pm until 6.30pm at Eye Parish Church Whenever possible, we ring for the 10.45am service on the second and fourth Sundays of each month, and also for special feasts and occasions. We are available to ring for weddings and funerals and on civic occasions.
Ideally a ring of 8 bells needs 16 ringers in order that the bells may be rung regularly for services. New recruits are always welcome. If you would like to find out more, pop in to one of our practices or Services or contact Adrian Beatty
eyebells@adrianbeatty.plus.com
or telephone 01379 871944. If you would like to view an interesting video about the English art of campanology. you are recommended to click on
this link
. One of the ways in which new ringers can learn is to follow the
'Learning the Ropes'
programme. There are five stages from beginner to experienced ringer and at all stages you're helped out by either a personal tutor or other capable bell ringers.
Church Shop

It is not such a rare thing these days to find a shop inside a Church building, but it probably was quite a radical move when Eye Church Shop was first opened over 25 years ago. The shop has always opened using volunteer help – and the passion to keep it open has waxed and waned over the years.
Development Appeal
We have completed the installation of the majestic J. J. Binns organ. Thanks to our supporters and the tremendous skills of the organ builders, E. J. Johnson & Son (Cambridge) Ltd, our dream has at last been realised! Our fund-raising for this stage of our campaign is now complete. Watch this space for details of our plans for the next Phase in our Development Programme.